Orisson there is no photo that portrays her and in those few images of hers that circulate she wears a mask. Why this choice?
I am an artist, what matters is not me, but my works. We are dominated by a world of appearances, a world where everyone competes in wanting to show themselves, where on social media everyone wants to be the center of attention and be recognized, often for demerits and trash and not for things of substance. I abhor being the protagonist of this society and that's why the mask and not being present on social media.
You have been painting for twenty years, your works are exhibited all over the world and until the beginning of 2023 you never had a social profile. In February you created an Instagram profile, why this change of course?
I have always looked with curiosity at new technologies and I remember the birth of "Facebook" with pleasure. The idea of ​​being able to meet old schoolmates or friends met in the summer was something magnificent and poetic in some ways.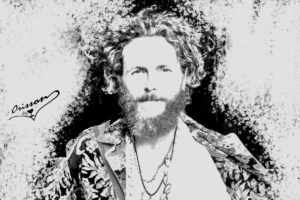 Then everything changed, virtual reality replaced the real one, Facebook turned into a great dating site where superficial acquaintances took over. Many of my clients invited me to be present on social media, they considered it a shame not to be able to see my works also because most of them are exhibited in private collections and they are commissioned portraits. Friendship with a dear Rai journalist friend of mine convinced me to entrust one of his colleagues with the creation of my Instagram profile, and Orissonart was born.
Not even a month after the creation of the profile, there are already more than 4000 followers. What relationship does he have with his audience and if in some ways the idea he had of the virtual world has changed.
The relationship I have with the people who follow me is the same that I have with my clients and friends. Previously correspondence took place via email, now it takes place via chat. The creation of the profile and the publication of the works you find is the work of the social media manager, in the chat instead, I interact only and exclusively. The idea I had of the virtual world hasn't changed, many people who write to me are fake, many just want to get rich by selling promotions and advertising, I am absolutely not interested in the number of followers or likes, in fact I have obscured the visibility of this last but not deny that it makes me extremely happy to see people on the other side of the world writing to me, complimenting or wishing to have my painting.
You are an advocate of hyperrealism, why have you always chosen this genre and how does your technique materialize?
I love reality, concrete, hard, crazy. I was born a photographer and I find it exciting to capture a cross-section of our lives that will remain indelible. Let me give you an example: the photograph of a kiss with the loved one, or the father holding his newborn son in his arms, two unique and unrepeatable moments that deserve to be engraved in the eternity of our minds. The loved one can leave us, the newborn grows, but that magical moment, true, real, unrepeatable, in my opinion deserves to be remembered. This is my art: making unique moments eternal.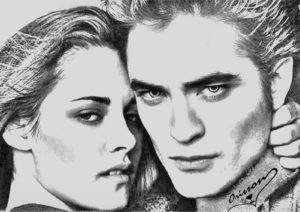 The protagonists of my works must always feel an emotion and a memory when they look at one of my paintings, if this does not happen, I have failed. That's why everything has to be 100×100 realistic. After taking a photo, I reproduce it using charcoal, a pencil to which I sometimes add paint, after which, if the client asks me to also want the work on digital support, I scan the work and further modify it using a graphic tablet.
In your portraits there is never color but only black and white, why?
The reason is very simple: if you want to photograph fashion, use color, but if you want to capture emotion, shoot and paint in black and white. I believe that the absence of colors focuses our attention solely on the subject and being mainly a portrait painter, I want the attention of the eye and the mind to focus on a specific image without genre distractions.
It's never nice to talk about money, but since this news is already present on the net and in specialized newspapers, we know that his work "Sad Princess", which portrays the much loved and longed-for Lady Diana, was bought by an American family for 2800 dollars. Art also means business and price, does it mean that all your paintings are around that price?
I prefer to talk about art and never about money, but this news was provided by the buyers themselves and I can't add anything about it. In the meantime, I specify that all the works you see on my profile are scanned and are reproductions.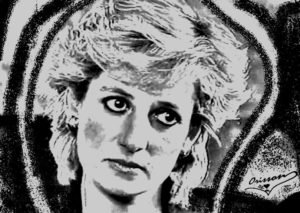 Various factors contribute to the price of a work; first of all if the customer wants me to photograph him personally or if he sends me a photo himself; if you simply want a portrait or even the scanned version; it is also important to know the size of the portrait, if you want to receive it already framed and what type of frame you like; there are several factors that make a price. What I can assure you is that everyone can afford a portrait of me because my goal and desire is not to make money but to give emotions and memories. The real problem is not the money but the waiting times. Having so many requests, you have to wait at least two months to get one of my paintings.
We know very little about you, can you at least tell us your name, age or where you were born?
I believe that this information is of no importance and is of no interest to anyone. I was born in Italy and I am proud to be Italian. At the moment I live in Berlin, a city that I love and that often hosts my exhibitions. Age is just a number, the name a set of letters. What matters is art, people pass by but our works will never die…
We thank Orisson for this interview and you can find many of his reproductions on the Instagram profile "orissonart".