How far is the entire path?
First of all, we need to make a premise. There is not a single path, but there are various paths with different paths all having Santiago de Compostela as their ultimate destination. I will briefly illustrate the main ones starting from the "French" one traveled by me.
The French Way. The French Way is the most popular route that traditionally starts from the village of Saint Jean Pied de Port, located in the French Pyrenees part, and extends over a route of about 800 km west of Santiago divided roughly into 30 stages. By clicking here you can see the elevation profiles of the stages and the list of all the hotels. Along the way we find large cities such as Pamplona, ​​Burgos and Leon.
The Northern Way is the coastal path to reach Santiago and has the advantage of offering the benefits of the sea and the possibility of pleasant swims during breaks. The route follows the route of the northern coast of Spain, from Irun to Santiago, meeting the French way along other routes. Along the way we find cities such as San Sebastian, Guernika (famous for the famous Picasso painting), Bilbao. The road is less populated than the French way and we will find shelters and hostels every 30 km or so. The Way is roughly divided into 33 stages for a total of 814 km. Most of the stages have a length between 20 and 25 km (17 stages) and between 25 and 30 km (10 stages).
The English Way was the pilgrimage route mainly traveled by inhabitants of Northern Europe, the English name derives from the greater transit of English (British) during the hundred years war between the English and the French, as the English could not reach Santiago de Compostela along the French way but only arriving by ship in Spain from Galicia. It starts from the port of Ferrol and is about 118 km long. The route can be divided into 5 or 6 stages and there are no major differences in height.
The Portuguese Way, which begins in the city of Porto, in the north-west of Portugal, extends for about 240 km to Santiago de Compostela and is roughly divided into 10 or 11 stages. Starting from Porto there are several possibilities to reach Santiago and you can decide to take the coastal path or the traditional one that nevertheless crosses the industrial area.
I wanted to give a brief description of the various paths for information only. There are numerous books and lots of other information specific to each individual walk with an accurate description of the various stages, a list of albergue, refuges, etc.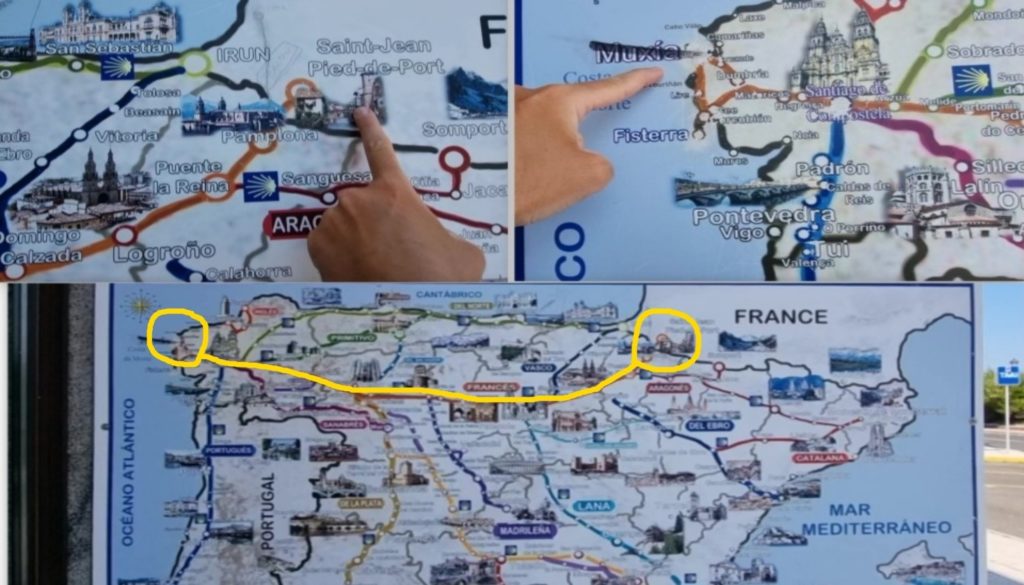 How many days does it take to complete the French way?
Time… Who among us has time in this life. So hectic, so precarious … All of us I think, we would like to switch off and take a long vacation from everything and everyone, but economic and working conditions certainly do not allow it. For a long-distance journey such as the French or the Northern Way, 25/30 days must be taken into account. If you tackle it by bicycle, you can consider the journey times halved. The first thing to do is to divide the time available into stages that have an adequate length to our expectations, abilities and physical fitness. Usually the stages on the way have a variable length from 15 to 40 km for those who go on foot and from 50 to 100 km for those who use the bike. On the web it is possible to find numerous "roadmaps" followed by pilgrims. These can be used to get an idea or as a track to set your own path. Remember to end the stage in places where there is at least one pilgrims' hostel, preferably two if you go in July and August. Personally I believe that to fully enjoy this experience, the days to be dedicated should not be less than two weeks. I think fourteen days are the minimum duration to feel an inner change and give meaning and meaning to what you do, to purify yourself and have a way of thinking about what is really important in this life, about what we really want to be, and to the things to change on our return. If you do not have an entire month available, I recommend that you always leave from Saint-Jean Pied de Port and make all the stops that time allows and then plan your return for the following year, starting from where you stopped. year before. The journey can be divided, but the real beauty of this journey lies precisely in its length and in the detachment from everyday thoughts;
One month or more
For the lucky ones who have thirty or more days at their disposal, they can travel the entire French way that starts from the French town of Saint Jean Pied de Port up to Santiago de Compostela: almost 800 km of total distance divided for 30 days with a average of 28 km per day. In addition, I continued from Santiago to the villages of Muxia and Finisterre for a total of further 120 km and another 4 days. Total summary of this sweet madness of mine: 931.9 km and 36 days also taking into account that I stopped for two days at the hippie community of Matavenero. The moment I report these figures, a grin of pride lights up my face.
Two weeks
If you have two weeks and you want to reach Santiago as a final destination, many decide to start from the city of Léon (from here you will cover the last 13 stages of the French Way with a total distance of 306.3 km), a city that uses a rich monumental heritage and a large number of university students and therefore very well connected by bus and train with the cities of Barcelona and Madrid.
A week
For those who have only one week of vacation, however, they often leave from Sarria (from here they will cover the last 5 stages of the French Way with a total distance of 134.4 km), a village that has become famous due to the absurd rule that provides that the pilgrimage can be considered valid for the purposes of obtaining the Compostela, covering the last 100 km to reach Santiago. Those who leave from here will receive the same "Compostela" as those who leave from hundreds of kilometers away. Why did I write absurd rule? Because this provision has meant that thousands of tourists decide to leave from Sarria to get this parchment to show off on social networks and with friends and you will find yourself walking with hundreds of noisy people interested only in taking selfies, depriving yourself of the true essence of the journey, not to mention the difficulties of finding a free place to sleep and the long lines to have breakfast or eat (in the months of July and August). What is intimate and religious about following a 5-day journey full of clubs, restaurants, hotels? What physical sacrifice should a person feel in walking for five days on almost always flat paths? The church, for a change, has sold off something precious and profound because of business and the God of money. Every year only 10% of the more than three hundred thousand pilgrims travel the entire length of the route, only 10% leave from Saint Jean Pied de Port enduring the hardships of climbing the Pyrenees, a number too small to arouse economic interest, and here it is. the brilliant idea: we do not care if you have traveled 900 km and if you have been walking for over a month, we only need the last 100 km and a few days to redeem your sins; it does nothing if you do not carry your backpack on your back, if you stay in hotels instead of hostels, if you have all the amenities at your disposal, unlike the initial stages where you will find countries that do not have hot water and sometimes even hostels, NO! We are interested that everyone, with minimal effort, can get to Santiago, pay to visit the cathedral, pay to get the distance certificate, pay to buy souvenirs, take tours and post a photo of the Compostela or of us on all social media. with the cathedral behind it because the more smiling tourists do it, the greater the publicity. Advertising is the soul of commerce, but religion and the religious motive? Who cares, the fundamental thing is that every year more than three hundred thousand people decide to arrive in Santiago.
To deepen the subject, to find out more and if you too have decided to walk the Camino de Santiago or dream of wanting to do it sooner or later, I suggest you buy my book where you will find out why every year, 300,000 people from all over the world, they decide to tackle the most famous Way in the world. If you too, like me, have always dreamed of giving up everything, aware that the life you lead is not the one you dreamed of as a boy, perhaps my experience could give you the courage that I lacked for 36 years …
Reading my experience, you will discover in detail and above all proven in the "field":
the history of the journey (historical notes, symbols and legends) and symbolic places;
suitable clothing and shoes, which backpack to buy and above all what to put inside;
duration and distance of the journey, how many days it takes to complete it and where to start based on the days available;
how to train before leaving and the necessary physical preparation;
how much does it cost to walk the path, where to eat and sleep along the path;
whether walking the path alone can be dangerous for a woman and whether there is a possibility of getting lost;
the answer to many questions and concerns (which were also mine) posed by many aspiring pilgrims and the possibility of contacting me to dispel all your doubts / hesitations;
finally, I will tell you why a journalist and radio host gave up his whole life of comfort and materiality, to travel more than 900 km on foot from the Pyrenees to the Atlantic Ocean, alone and without a telephone, sleeping over that in the various hostels also on the street, in a stable, in a tent, in an abandoned monastery and living two days in a hippie community.
…. "I gave up everything, I left home, sold my car, motorcycle, clothes, my rolex and most of the material things I owned to follow that almost nagging, suffocating, undeterred feeling that once known does not make you find peace: SANTIAGO, the Camino de Santiago. My life needed answers that only a journey in complete solitude could give me "….
If you want to get to know me better, in the link below you will find an interview where I talk about my experience 👇👇👇
https://www.italianmadhouse.com/libri/i-dropped-everything-to-do-santiagos-way-cesare-desertos-book/