First of all, I want to remind you that the word Albergue does not mean Hotel, but Hostel, while if you are looking for a Hotel you will have to look for a Hostal. The Albergues for pilgrims are very numerous especially on the French route and well distributed. This allows us to choose the various stages of our journey in a very calm and personal way based on our physical and mental needs. In these hostels you can stay for one night only and no reservation is required. For some years now, however, especially the private hotels, give the possibility to book and maybe even offer more private and comfortable rooms, with two or three beds, obviously paying a little more. Indispensable is the presentation of the Credential on which each Hospitaleros (the manager of the Albergues) places the sello (stamp) that uniquely identifies its structure. Los Albergues can be managed by private individuals, by municipalities, by parishes or by associations of friends of the journey, Spanish and often also foreign. However, all have the same characteristics and the same purpose, that is to give hospitality for one night to pilgrims with the credential. The rates are variable (from 5 to 15 euros) and some are free offer, the so-called donations. The hostels are also equipped with a kitchen (although sometimes there is no need for cooking), a refectory, telephones, internet access, washing machines and dryers for a fee.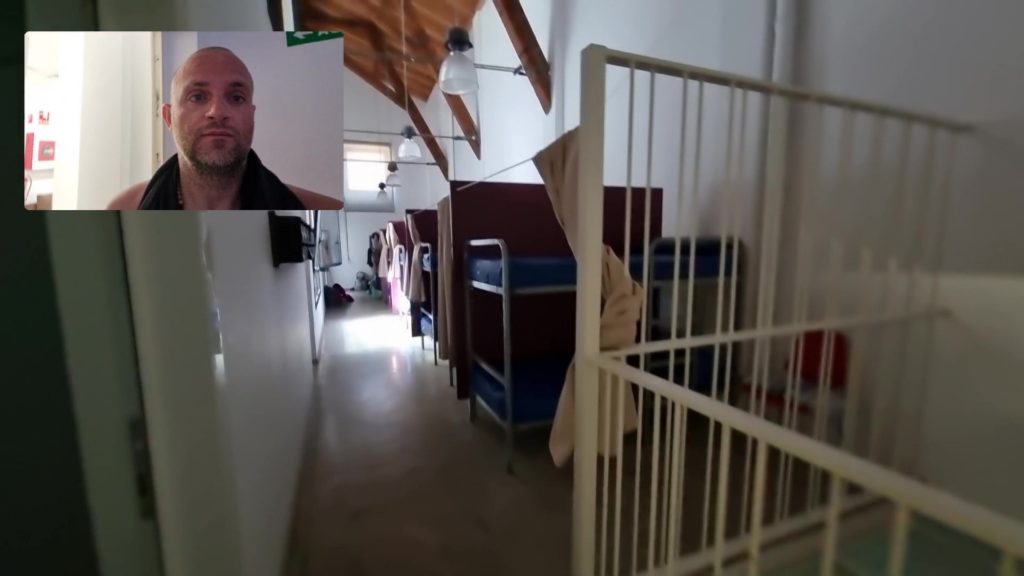 There are showers and toilets in the hostels. They range from the small private bathroom to be shared with other pilgrims, to open barracks-style showers. It is a good idea to wash yourself with Marseille soap (perhaps reduced to flakes or grated to take up less space), a small towel (for the feet) and a large towel (for the body). For those who want, you can use microfiber pool towels (you can find them in any sports shop), which weigh less and dry faster than a cotton towel but have the drawback of retaining odors. If you don't wash them often, you risk finding a musty smell in your backpack! Remember to bring a pair of rubber slippers or beach sandals to take a shower. Don't do it barefoot! As for your bodily needs, it depends on your personal habits and needs. People "if it's not the bathroom in my house I can't" will experience a first week of crisis, then they will adapt. The newer hostels have a man-woman division and are equipped with toilets, while other hostels have a bathroom for all pilgrims and there is a Turkish one. It's convenient to bring a roll or two of toilet paper from home, as some hostels don't have them. It is also convenient if you are hit by a sudden impulse and find yourself having to "fulfill" your needs in a field, for example in a field of sunflowers, just as it has happened to me several times. As for hygiene rules, those apply everywhere. Wash your hands well, do not get dirty and try not to lean directly on the axle covers. Each hostel is unique. There are albergues equipped with comfortable rooms, with wooden bunk beds, comfortable mattresses, soft pillows, which can accommodate up to five or six people. Other hostels, on the other hand, are more "military" and have numerous dormitories (even thirty or more people), beds in galvanized iron, mattresses resting on spring nets. Most hotels will give you pillow covers and mattress covers, some for an additional charge, but there will be some that are free of these things. Despite everything, the important thing is to place the sleeping bag on a bed and be able to rest to resume the journey. The rest are just details that you get used to quickly. There are many websites where in addition to the usual information, you will also find reviews from other travelers or votes on the characteristics of the hostel in question, to get an idea of ​​what you are getting into. If you feel more comfortable, or if you request it, you can also book through Booking, Hostelworld or Trip advisor, the most popular and used search sites. Speaking with other pilgrims about the hostel booking methodology, I suggest you download two very important apps: the first is called Camino Pilgrim-Frances, for each country it provides you with the list of hostels present, the price and the telephone number, although not always it is updated and as many have told me, sometimes the prices are different and higher than those on the site but just call and talk to the host who will tell you everything; the second is called Camino Ninja App, also in this case a list of the hostels present is provided for each country with the addition, however, of the hotels that can be booked via the app and without calling. By clicking here you will find the list of all the hotels along the way.
As for the food issue, there are several possibilities. Let's start with the key meal of the day, breakfast, which should normally give us between 15 and 20% of the calories we will use during the day. The Spanish breakfast (desayuno) is very similar to the Italian one and you will find in the albergues or bars, caffelatte (cafè con leche), brioches, toast (tostada) with butter or jam (mantequilla or mermelada) and pancakes (churros). Always remember that we are in Spain and, if you think you will find all the bars open at 7 in the morning like here in Italy, you are very wrong as most open after 9 (so plan ahead). Regarding lunch, during the day it is possible to stop in the many bars or restaurants that meet on the street, even if this choice heavily affects personal finances. For dinner it is possible to shop in a supermarket and cook in the hostel or have lunch / dinner in a partner restaurant.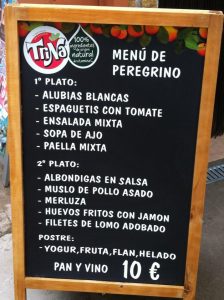 These restaurants display the symbol of the path and the words "menu de peregrino" (or "del dia"). It is a complete meal consisting of: first course (usually pasta, paella, rice), second course (chicken breast with salad or similar), side dish (potatoes, beans / alubias, green beans / judias verdes), dessert (pudding, yogurt ), water, a quarter of wine and coffee. The price fluctuates between 10 and 12 euros. Beware of bottled sparkling water, always quite expensive and sometimes even more than the excellent local beer (cerveza). Read this way, the idea of ​​cooking when restaurants offer a hearty dinner at such a good price would seem unthinkable. The fact is that, after two weeks of rice, chicken breast and pudding, you will involve other pilgrims (Italian and non-Italian) in the purchase of food at the supermarket and you will start cooking a nice carbonara as God commands! The path (apart from rare stretches) is dotted with towns and cities. So the opportunity to meet a supermarket, a grocery store or a grocery store is very high. Prices vary from country to country. It is also possible to stop in the Spanish delicatessens (called "charcuterias") and buy a sandwich (usually three spans long) filled with excellent sliced ​​meats and Spanish cheese (try the local "jamon serrano" raw ham). Obviously, in the long run, always eating sandwiches is tiring but let yourself be guided by the sensations of your body. There will be days in which a biscuit or some biscuit with a little water will be enough to satisfy you, others in which you will want to stop and do some "tapeo" (a lunch consisting of various mixed tastings), others in which you you will be satisfied with some fruit. The journey is particular and personal. It will surprise you, don't stay there planning everything! Most of the hostels, as I said earlier, are all equipped with a kitchen or kitchenette, to which pilgrims have free access. First, check that there is everything you need, plates, cutlery, glasses, pots, colanders also because a hostel that has a kitchen does not necessarily have dishes! Before using them, wash all the dishes thoroughly, as it is not known how long they have been there and who has used them before you. The hostels have refectories for eating and socializing. Then clean everything, the dishes, the kitchen and the stove, out of respect for those who come after you.
To deepen the subject, to find out more and if you too have decided to walk the Camino de Santiago or dream of wanting to do it sooner or later, I suggest you buy my book where you will find out why every year, 300,000 people from all over the world, they decide to tackle the most famous Way in the world. If you too, like me, have always dreamed of giving up everything, aware that the life you lead is not the one you dreamed of as a boy, perhaps my experience could give you the courage that I lacked for 36 years …
Reading my experience, you will discover in detail and above all proven in the "field":
the history of the journey (historical notes, symbols and legends) and symbolic places;
suitable clothing and shoes, which backpack to buy and above all what to put inside;
duration and distance of the journey, how many days it takes to complete it and where to start based on the days available;
how to train before leaving and the necessary physical preparation;
how much does it cost to walk the path, where to eat and sleep along the path;
whether walking the path alone can be dangerous for a woman and whether there is a possibility of getting lost;
the answer to many questions and concerns (which were also mine) posed by many aspiring pilgrims and the possibility of contacting me to dispel all your doubts / hesitations;
finally, I will tell you why a journalist and radio host gave up his whole life of comfort and materiality, to travel more than 900 km on foot from the Pyrenees to the Atlantic Ocean, alone and without a telephone, sleeping over that in the various hostels also on the street, in a stable, in a tent, in an abandoned monastery and living two days in a hippie community.
…. "I gave up everything, I left home, sold my car, motorcycle, clothes, my rolex and most of the material things I owned to follow that almost nagging, suffocating, undeterred feeling that once known does not make you find peace: SANTIAGO, the Camino de Santiago. My life needed answers that only a journey in complete solitude could give me "….
If you want to get to know me better, in the link below you will find an interview where I talk about my experience 👇👇👇
https://www.italianmadhouse.com/libri/i-dropped-everything-to-do-santiagos-way-cesare-desertos-book/