For those who have the opportunity to walk the entire French Way or want to start their Way from France, reaching Saint Jean Pied de Port, the starting point of the French Way, is not easy. Saint Jean Pied de Port is in fact a small town at the foot of the French Pyrenees, right on the border with Spain and about fifty kilometers from the Atlantic coast. Reachable only by train or on four wheels, it has become an increasingly popular destination in recent years, which welcomes thousands of departing pilgrims in the summer. The simplest means of transport to reach south-western France is certainly the plane. The closest French airports and best connected with Italy are Lourdes, Biarritz, Bordeaux and Toulouse, while for Spain, really close by, the choice of San Sebastian stands out.
To reach Saint Jean Pied de Port you have various possibilities:
– a train that takes you to Nice and from there continue to Biarritz. Once in Biarritz, you reach Bayonne (by bus or train). From Bayonne you can take another train or a bus, which will take you to Saint-Jean.
– by plane, which represents the simplest solution, and offers multiple possibilities: you can take a plane to Paris and then take another one to Biarritz, or a plane to Lourdes, Bordeaux and Toulouse and from here reach by bus or Biarritz train. From Biarritz you have to follow the same indications as previously illustrated. I took a direct flight from Rome Ciampino-Lourdes and from here a taxi to reach Saint Jean directly instead of going to the Lourdes train station, taking a train that would take me to Bayonne and from here another train to reach Saint Jean. Attention, to reach Saint Jean by train from Lourdes, you cannot arrive in the afternoon, as happened to me, as the trains leave from Lourdes at: 06:33; 08:39; 1:32 pm; and last train departing at: 15:32.
Tip: If you meet other pilgrims on your plane, consider the shared taxi option. With a total cost of about three hundred euros you will reach Saint Jean directly (in about three hours), avoiding taking two different trains.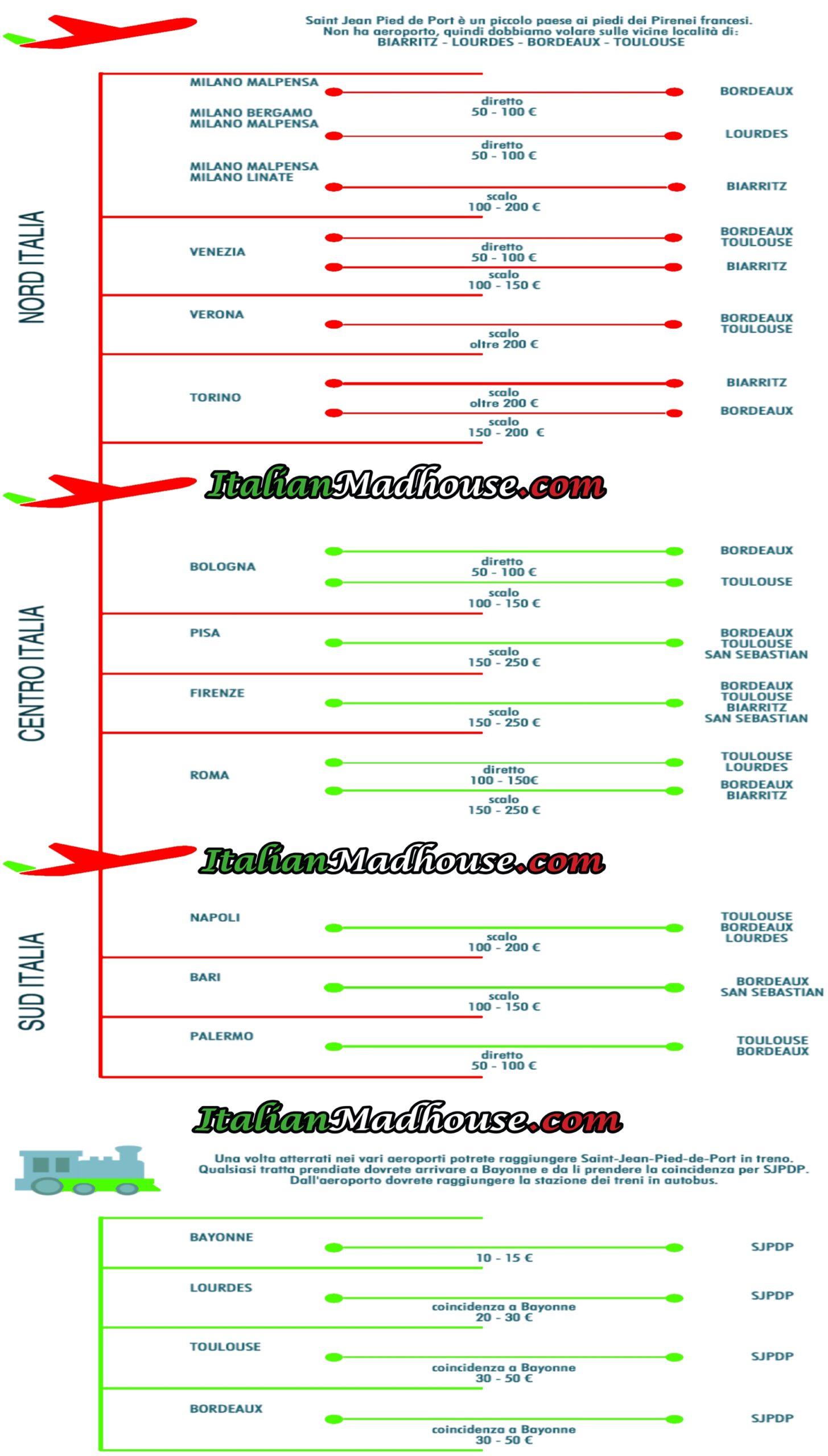 To deepen the subject, to find out more and if you too have decided to walk the Camino de Santiago or dream of wanting to do it sooner or later, I suggest you buy my book where you will find out why every year, 300,000 people from all over the world, they decide to tackle the most famous Way in the world. If you too, like me, have always dreamed of giving up everything, aware that the life you lead is not the one you dreamed of as a boy, perhaps my experience could give you the courage that I lacked for 36 years …
Reading my experience, you will discover in detail and above all proven in the "field":
the history of the journey (historical notes, symbols and legends) and symbolic places;
suitable clothing and shoes, which backpack to buy and above all what to put inside;
duration and distance of the journey, how many days it takes to complete it and where to start based on the days available;
how to train before leaving and the necessary physical preparation;
how much does it cost to walk the path, where to eat and sleep along the path;
whether walking the path alone can be dangerous for a woman and whether there is a possibility of getting lost;
the answer to many questions and concerns (which were also mine) posed by many aspiring pilgrims and the possibility of contacting me to dispel all your doubts / hesitations;
finally, I will tell you why a journalist and radio host gave up his whole life of comfort and materiality, to travel more than 900 km on foot from the Pyrenees to the Atlantic Ocean, alone and without a telephone, sleeping over that in the various hostels also on the street, in a stable, in a tent, in an abandoned monastery and living two days in a hippie community.
…. "I gave up everything, I left home, sold my car, motorcycle, clothes, my rolex and most of the material things I owned to follow that almost nagging, suffocating, undeterred feeling that once known does not make you find peace: SANTIAGO, the Camino de Santiago. My life needed answers that only a journey in complete solitude could give me "….
If you want to get to know me better, in the link below you will find an interview where I talk about my experience 👇👇👇
https://www.italianmadhouse.com/libri/i-dropped-everything-to-do-santiagos-way-cesare-desertos-book/