The training and physical preparation to embark on the journey will depend a lot, in addition to the distance you intend to travel, especially on your lifestyle habits, your weight and the physical activity you practice. I can assure you, however, that I have seen many elderly people, many overweight people, so there is no need to be a highlander or a super sportsman, especially since the distance between the various stages is up to you alone to decide. The fact is, however, that most people nowadays are sedentary, habitual, even if only to travel a few kilometers, they use the car or means of transport and are no longer used to walking and traveling many kilometers daily and moreover in on an ongoing basis. This is the greatest difficulty you will encounter: traveling 20 km a day is by no means a prohibitive or excessively tiring distance even for those who are not trained or never walk, the problem is to travel this distance continuously every day, also considering the weight of your backpack. Also remember that, if you have health or back problems, there have long been several companies that offer pilgrims a baggage transfer service (and, if necessary, also the pilgrims themselves) that allows you to send your backpack from one stage to another. . In each hotel you will find the numbers of the different companies and you can agree on the conditions and prices of transport (on average the price is 7 euros each way). Usually, the albergue will provide you with an envelope to insert the backpack with a label on the outside showing your personal details, telephone, location and destination albergue. The backpack is collected the following morning and delivered in the early afternoon: finding your faithful companion waiting for you at your destination, well rested, will be a joy for your eyes. Logically this is a solution to be adopted only for those who have serious health problems and do not want to deprive themselves of such an experience. Do not be smart: the Way is also a sacrifice and to test ourselves, our body and our mind! For those who will walk only a week of walking and especially the last 100 km, there is no physical preparation or particular training. For those who have the luck and the opportunity to walk it all, the advice I can give you is to start getting used to your feet and back two months before and to walk at least 2 times a week for an hour's walks wearing shoes and the backpack you will use for Santiago with a weight similar to the one you will carry. I personally did this exercise only a few weeks before leaving and I can tell you that the first week I regretted not training. I am 36 years old, I have a normal body, I used to walk an hour a week but doing it on the Camino is another story. "Guys, if you start from Saint Jean Pied de Port the first two stages are the most difficult of the whole journey and completely uphill". Doing them without any weight will put you to the test, then think of having to do them with over ten kilos on your shoulders and without training. Listen to my advice and get used to your body a few months before leaving and I can assure you that you will not cry like I did but you will fully enjoy the wonderful and unique landscapes of the Pyrenees. Why did I cry? This is not a metaphor but I really cried in the concrete and real sense of the term. To find out more, I suggest you read my book where I will also reveal useful tips on how to avoid the formation of blisters and many invaluable tips.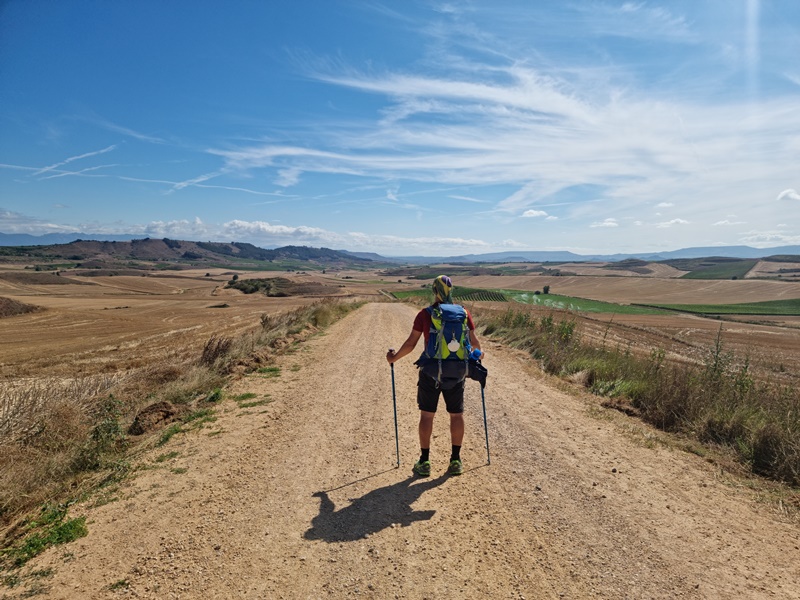 To deepen the subject, to find out more and if you too have decided to walk the Camino de Santiago or dream of wanting to do it sooner or later, I suggest you buy my book where you will find out why every year, 300,000 people from all over the world, they decide to tackle the most famous Way in the world. If you too, like me, have always dreamed of giving up everything, aware that the life you lead is not the one you dreamed of as a boy, perhaps my experience could give you the courage that I lacked for 36 years …
Reading my experience, you will discover in detail and above all proven in the "field":
the history of the journey (historical notes, symbols and legends) and symbolic places;
suitable clothing and shoes, which backpack to buy and above all what to put inside;
duration and distance of the journey, how many days it takes to complete it and where to start based on the days available;
how to train before leaving and the necessary physical preparation;
how much does it cost to walk the path, where to eat and sleep along the path;
whether walking the path alone can be dangerous for a woman and whether there is a possibility of getting lost;
the answer to many questions and concerns (which were also mine) posed by many aspiring pilgrims and the possibility of contacting me to dispel all your doubts / hesitations;
finally, I will tell you why a journalist and radio host gave up his whole life of comfort and materiality, to travel more than 900 km on foot from the Pyrenees to the Atlantic Ocean, alone and without a telephone, sleeping over that in the various hostels also on the street, in a stable, in a tent, in an abandoned monastery and living two days in a hippie community.
…. " I gave up everything, I left home, sold my car, motorcycle, clothes, my rolex and most of the material things I owned to follow that almost nagging, suffocating, undeterred feeling that once known does not make you find peace: SANTIAGO, the Camino de Santiago. My life needed answers that only a journey in complete solitude could give me "….