Let's start from the fundamental point: the weight must not be in the most absolute way greater than 10kg! This is by no means the case as weight affects tendonitis and blistering by placing weight on the feet and stressing them. Due to a broken scale, I traveled the first stage with a backpack weighing almost 15 kg and I experienced one of the worst, painful and tiring moments of my life! San Jean Pied de Port-Orisson, 10.4 km all uphill, under the sun and with a weight on the shoulders of 15 kg with a training equal to zero almost led to abandoning my journey after just one day. There are many pilgrims who during this stage have sprained an ankle, have taken a sprain or fallen ruinously. Most of the time the cause was due to an excessive weight of the backpack. In my normal life it takes me an hour and thirty minutes to cover the distance of ten kilometers walking briskly, that day in July it took me six, SIX HOURS! The broken scales and a damn error of assessment was about to cost me the best trip of my life after less than 24 hours. If you want to read my book you will find out what hell the early days were …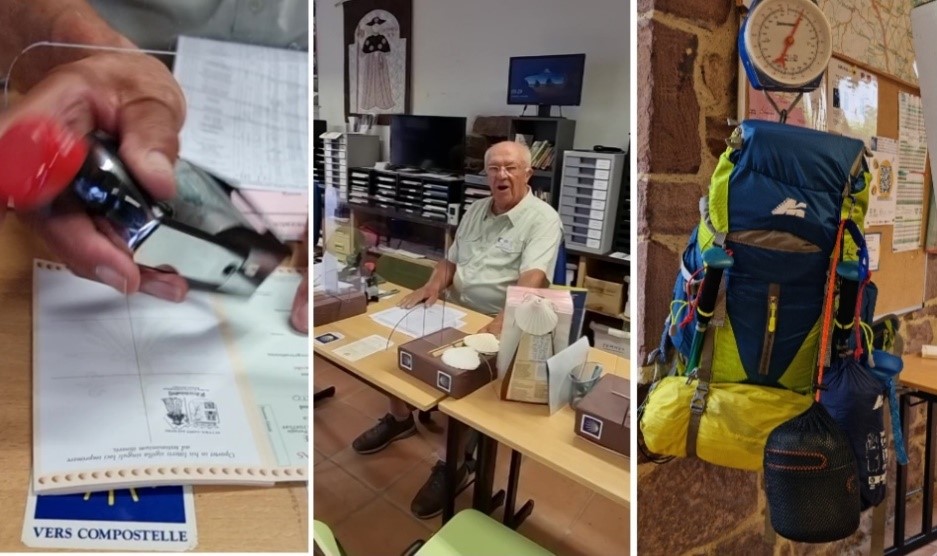 So be careful in choosing the material to take with you, because I repeat, the backpack will then be you to carry it on your shoulder and no one will give you a push! At the first experience of the journey, you can be led to put even futile objects in your backpack, following the idea of "you never know". Nothing more wrong! Every object, even the most insignificant, means more weight in the backpack and therefore more weight to carry on the shoulders. To hear this theory of mine, many turn up their noses saying "what will two hundred grams more ever be?". Do one thing, take your backpack, fill it with ten kilos and start walking for an hour in the sun, then remove 500 grams and see how you feel, I'm waiting for your messages 😉.
You will spend 70% of your day walking, the remaining 20% relaxing and 10% sleeping. These are roughly the average percentages of the pilgrim's life. You will not go dancing or wandering around clubs, you will not participate in social events or gala evenings. This is to make you understand that you have to bring the essentials as everything superfluous will affect the weight of the backpack and consequently on your shoulders. Below is a list of the contents of my backpack (the one I carried for over 35 days after returning the excess weight) excluding from the list the things I sent back to Italy later:
Let's start with clothing: 2 pairs of socks; 2 underpants; 1 swimsuit; 2 breathable shirts; 1 cotton t-shirt; 1 bandana; 1 short shorts; 1 long trousers; 1 windbreaker; slippers for the shower; sandals to be used in the evening.
Accessories: aloe cream for our precious feet to wear in the evening at the end of the day or during our breaks; sunscreen and after sun cream (a pilgrim is exposed to the sun for eight to ten hours a day! Therefore, even in spring and autumn, it is a good idea to spread the exposed parts of the body (face, arms, legs) with sunscreen with protection 50+. Do not do like me that the first week I completely burned my arms. You have to do it in the morning, before leaving and repeat the operation at least every two or three hours; My friends, do not underestimate my advice. pilgrims with sunstrokes and in the throes of heat stroke. The sun is strong and not in all places there are shaded areas, also calculating the fact that you will walk especially during the day and therefore you will be exposed to the sun for many hours; Mosquito spray (many times it will save your life from sleepless notes); compeed patches (just in case); 1 Large towel and 1 small microfiber; sunglasses, very important since we will spend most of our walk during the day and in the hours of greatest light; sheet bag; water bottle; pouch, where to store our documents, money, telephone and photographic camera to always carry with us, remember that on the way we are not at home, there will be many people and it is a good idea not to leave valuables unattended because as is often known, the opportunity makes the man thief; Marseille soap to be used both for washing clothes and for yourself; 4 clothespins and some thread; toothbrush and toothpaste; earplugs (essential since you will surely find snoring pilgrims; diary and pen; mini video camera and battery charger; credential (the pilgrim's passport); headlamp and relative batteries; various medicines; mp3 player; wet wipes for paper toilet; stone and / or photograph to leave on the iron cross. These are the things you actually need during the Camino and you will really need it. In my opinion everything else is superfluous except for the telephone and its battery charger which I did not bring to be able to completely isolate myself from the outside world and from my life.
To deepen the subject, to find out more and if you too have decided to walk the Camino de Santiago or dream of wanting to do it sooner or later, I suggest you buy my book where you will find out why every year, 300,000 people from all over the world, they decide to tackle the most famous Way in the world. If you too, like me, have always dreamed of giving up everything, aware that the life you lead is not the one you dreamed of as a boy, perhaps my experience could give you the courage that I lacked for 36 years …
Reading my experience, you will discover in detail and above all proven in the "field":
• the history of the journey (historical notes, symbols and legends) and symbolic places;
• suitable clothing and shoes, which backpack to buy and above all what to put inside;
• duration and distance of the journey, how many days it takes to complete it and where to start based on the days available;
• how to train before leaving and the necessary physical preparation;
• how much does it cost to walk the path, where to eat and sleep along the path;
• whether walking the path alone can be dangerous for a woman and whether there is a possibility of getting lost;
• the answer to many questions and concerns (which were also mine) posed by many aspiring pilgrims and the possibility of contacting me to dispel all your doubts / hesitations;
• finally, I will tell you why a journalist and radio host gave up his whole life of comfort and materiality, to travel more than 900 km on foot from the Pyrenees to the Atlantic Ocean, alone and without a telephone, sleeping over that in the various hostels also on the street, in a stable, in a tent, in an abandoned monastery and living two days in a hippie community.
…. "I gave up everything, I left home, sold my car, motorcycle, clothes, my rolex and most of the material things I owned to follow that almost nagging, suffocating, undeterred feeling that once known does not make you find peace: SANTIAGO, the Camino de Santiago. My life needed answers that only a journey in complete solitude could give me "….